2018 saw me travel to two places in India that have been high repute to being insurgent – Kashmir and Manipur. While Kashmir still battles every single day to breathe amidst regular attacks, curfews and unwarranted situations every now and again, Manipur, on the other hand, has regained its status of being out of the AFSPA act back in 2004. However; the conundrum around whether to visit the place still kept people from witnessing the blend of history and culture of this land furthermore, all things World War II, INA and, Polo.
Manipur has, slowly and steadily, succeeded in piquing the interests of travelers from around the world and has now gained little more momentum in its tourism through regular festivals, cultural fairs, sports, and various sustainable development programs. I for one was there for history and culture.
Finding A Place To Stay
Traveling within your own country gives you the freedom to land into any destination without prior bookings and that is something I am an expert of. Manipur was no exception. I checked for hostels in Imphal soon after landing and there was just one- The Youth Hostel. Impressive! I exclaimed in my head. Upon reaching, I was asked to wait at the reception area until the hostel manager, Mr. Singh was in. I could see a lot of students from other states discussing some interstate sports competitions happening around. It didn't take me long to figure out that chances of my getting a room at the hostel were lean due to quite a few cultural fairs lined up on dates coinciding with that of my stay in Imphal.
The advantage for a solo traveler is that s/he can be adjusted, or rather squeezed in at places even when the chances of accommodation are nearly zilch. Mr. Singh was kind enough to allocate a spare room that was only reserved for VIP visitors. Yay! – What's more interesting is that I lost my way to the hostel that very evening and Mr. Singh guided me very patiently over the phone. (Mis)adventures on travels. Phew! And yes, the language barrier indeed, which is why I had to call Mr. Singh before giving up on people around. I actually had underestimated this aspect before my arrival into this land of Meities, Kukis, and Nagas. However, I managed okay to co-exist.
Imphal, the tiny capital city of this Northeastern state can very much be covered on foot and public transport. Every place is well connected via public transport. I mostly preferred walking and used shared cabs only on occasions when I felt lazy. I spent 2 days exploring the city, which, as a slow traveler, I found was sufficient time. Listing down my itinerary for 48 hours in Imphal.
Day 01:
Khwairamband Bazaar or Ima Keithel
In the heart of Imphal city, lies Asia's largest all- women market, Ima Keithel, literally translating into "mother's market". Also known as Khwairamband bazaar, the market is a nerve center operating from dawn to dusk with women taking charge of trades of all kinds. You get to buy everything here from grocery to handicrafts to clothes to fresh local produce. Dressed in traditional phaneks (sarong) and innaphis (shawls), manning the stalls that are passed down onto them from their mothers or mothers-in-law, women here, have been the forefront of Manipur's socio-economic landscape since time immemorial. Turn the pages of history and you would find proof in Nupi Lan, a social movement wherein, Manipuri women defended their trading rights at Ima Keithel against economic policies brought up by British autocrat.
For the women traders, Ima Keithel is not just a hub, it is their identity and life.
A detailed post on Ima Keithel coming soon.
Shaheed Minar
A memorial built in respect of valiant soldiers of Anglo- Manipur war of 1891. This was the place where 5 Manipuri commanders including the then crown prince, Bir Tikendrajit Singh was hanged for waging war against British Empire. The memorial garden is now named Bir Tikendrajit Park and is located adjacent to Mapal Kangjeibung, Imphal polo stadium.
It has a well-manicured garden and lawn. The locals often come here and spend time with families. Because of its location right next to the polo ground, you may as well be lucky to watch an ongoing polo match.
Mapal Kangjeibung (Imphal Polo Ground)
Manipur introduced the world to the game of polo or, sagol kangjei, as they call it and, Mapal Kangjeibung is the world's oldest functional polo ground. So, the game of elites has humble roots and how.
I wasn't aware of the polo ground until I heard announcements from the adjacent ground while taking a stroll at shaheed minar complex. I peeked out to find players getting around with their ponies. I quickly went to watch the game. Not that I understood any of it but it sort of felt cool.
Don't miss out the board at Imphal polo stadium that reads – "Manipur Gave The World The Game of Polo".
Govindajee Temple
Govindajee temple is the oldest, largest and, most important center for Hindu Vaishnavites in Imphal. The temple is an impressive red brick structure with two golden domes. It is located very near to Kangla fort and next to the royal palace. The temple is surrounded by greens all around, a lake and a temple garden. The place is very serene and I would strongly recommend a visit to the temple during early morning while the prayers take place.
I had been there in the afternoon. The main temple was closed and I had to wait for around an hour until it opened for visitors again. It was worth the wait I must say.
Day 02:
Imphal War Cemetery
Wars leave neither a good sight nor good memories, let alone the number of lives claimed. I had walked up to the Imphal war cemetery from my hostel that morning. The place is located opposite DM College, in a silent neighborhood, away from the hustle of traffic on the highway. It was a different sense of peacefulness inside the cemetery.
There are 1600 Commonwealth burials of the Second World War in this cemetery. The battle fought in Imphal and Kohima during the Second World War has gone down as one of the greatest probable battles in history. The cemetery is clean and well maintained by Commonwealth War Graves Commission.
The cemetery remains open from 9:00 AM to 4:00 PM during the winter months of October to February, and from 9:00 AM to 4:30 PM rest of the year.
Indian Army War Cemetery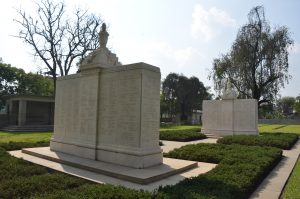 My hostel manager, Mr. Singh recommended this place to me and helped me with accurate directions. This cemetery is specific to soldiers of the Indian army, belonging to the Islamic faith. There is also a Cremation Memorial at the end of the cemetery that commemorates soldiers from other religious faiths too, that were killed during the battle of Imphal and Kohima.
Kangla Fort
Kangla fort is the ancient capital and seat of the royal family of Manipur. Apart from being the seat of political power of the royal family, the fort is also of both religious as well as cultural significance to the Manipuris. The palace is surrounded by a huge channel, called "Kangla Pat".
The fort is close to Imphal river and is spread across an estimated area of 237 acres of land. There are temples, museums, and ruins inside the fort complex, which is surrounded by moats. The entrance of Uttara, the ancient coronation hall of the fort is guarded by Kangla Sha, dragon-like animals that are believed to protect the king.
The Kangla fort complex also is home to world's oldest polo ground, Manang Kangjeibung, which was turned into a helipad. There are quite a few tombs, cottages of British and Assam Riffle officers, samadhis/memorials of erstwhile kings and offices inside the complex. There is a pond believed to be sacred and of religious importance by the locals.  
It's recommended to spend a good amount of time inside the fort complex and explore it. 
There is an entry fee of INR 10. The visiting hours are 9:00 AM to 4:00 PM between November to February and 9:00 AM to 5:00 PM between March and October.
The Food Space Of Imphal
The air around the market area in Imphal smelled heavily of fermented fish with sights of locals snacking on Singju, a local delicacy, ingredients of which include seasonal vegetables. It comes in both vegetarian and non-vegetarian version. The non-vegetarian Singju is made of traditional fermented fish, called Ngari.
The best way to relish on Manipuri food is to have the Manipuri Thali. Luxmi's kitchen is famous for serving the best thali. I also tried thali at Imoinu kitchen on the recommendation of a close friend and found their food more delicious. My personal recommendation would be to go for Imoinu, run by 3 most friendly and warm females I met in Imphal. Both Luxmi and Imoinu serve Meitei cuisine.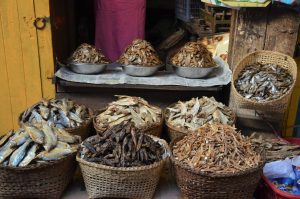 If you are keen on trying Tangkhul cuisine, Shosa's kitchen is most recommended. The food is hot and spicy. They serve amazing desserts and baked yogurts, the kiwi yogurt is a must try.
My next destination in Manipur was Loktak Lake, the largest freshwater lake in Northeast India. How I traveled there and where I stayed, my interaction with locals in Moirang and what I found intriguing about the INA memorial, is a story for another post. 
Your comments are appreciated and please remember to share. Sharing is caring.