When Life Gives You Lemons, Make Mojito.
We quickly stopped to cover our bags before we could shield ourselves from the rain. Reason- Our cameras were more loved than we loved our own selves. The sudden heavy showers disappointed me a bit since the principal motto of our ride was to capture accumulation of pre-monsoon clouds in the valley from Konkankada and flowing off the peaks. Well, the rains made those chances mean.
We had been riding for a little more than 6 hours by now. The road that turned serpentine after veering off the highway had now tapered between humongous banyan trees and jowar fields. We stopped every now and then after spotting a villager or two, asking them to ensure we were headed in the right direction. The rain-soaked breeze and rain-washed roads made our ride pleasing, however, deep down, skepticism managed to creep in my mind with the question of whether or not we would succeed in our endeavor. Besides, it started getting darker.
I was on my way to the famous hill fort of Harishchandragad.
We finally reached Pachnai, a quaint little village at the foothills of Harishchandragad, by 7:30 PM. Parked our bikes and started hiking by 7:50 PM. We decided to bypass the usual route and take the dense forest route, which would cut down our hike by good 30 minutes, plus, we would directly reach Konkankada. Deep inside the forest, the air had a different aura. The petrichor and chirping of crickets coupled with rhythmic crushing of leaves and pebbles under our feet made the otherwise calm forest come live. We also spotted fireflies here and there. We completed our hike in an hours' time, had dinner and strolled around near the cliff. Our plan was to hike up to Taramati (another pinnacle on top of Harishchandragad plateau) early next morning, to witness sunrise and the 360 degree view of entire Sahyadri range.

By morning, my phone had completely died and none of us carried powerbanks. Hence, it turned out to be no-digital-weekend for me and I was more than happy to be cut out from the phlegmatic world. The hike to Taramati from Konkankada takes around 30- 45 mins to complete and we reached to the top just before sunrise. Like I had anticipated, the entire area was covered in fog without a single hint of clouds. I however sat there wonderstruck, relishing the beauty and majesty of the nature. The Malshej Range, The Ajoba Range, The Kalsubai Range, Karkai, The Bhimashankar Range and The Ghanchakkar Range. Each and every peak within the ranges could be seen distinguishably peeping out of the misty blanket.
Although we could not get any glimpse of the floating clouds, I absolutely loved being there. Mountains never fail to tame me like their own. We managed to take couple of time lapses and photographs from top. Spent a lot of time just sitting in quietude. We descended from Taramati only to spend another long hour sitting by the Konkankada, watching climbers from Pune trying to summit Konkankada. They had pitched their tents since the last 10 days and were supposed to be there for another 10 days. It was a sight to watch climbers bolting and climbing the great overhang of Konkankada. It is every climber's dream to summit Konkankada since it is one of it's kind. There is no other cliff like the Konkan Cliff in entire India and here I was, witnessing a fraction of one such moment.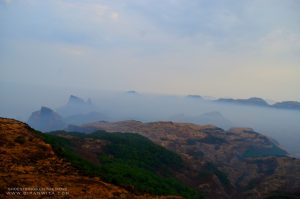 Back home, I could not resist my mind from travelling back to those special moments during that weekend again and again. The moment when I soaked under the rain, the moment I started hiking after a hiatus of one long year, the moment I felt that reverential respect for people climbing up the Konkankada, the moment I could feel the wind caressing my face and wafting past. Although I did not get to fulfill my sole purpose of going to Harishchandragad that weekend, I am still content with my journey and experience.

From mundane to sublime, I travel distances to cut away from unwanted thoughts, breathe in the freshest air, relish the lofty mountains standing tall and braving all. From concrete to organic. Weekends are to detoxify. From virtual to real.
How about you? How do you manage to de-stress from the mundane?
Video Credit goes to my best friend and partner in crimes – Vinayak Phadtare
I look forward to reading your thoughts. Please leave your comments below and share. Because- Sharing is caring