I have Shalini from Shalzmojo as my guest blogger today, who is an incredible blogger and an amazing human being. I asked her to write on travel and here she shares her experience through pretty postcards from Halebidu, Karnataka. It sure has gone into my "to-visit" list. 
A few years ago I happened to be residing in Bangalore and would try and get out on the weekends to visit nearby touristy spots with my camera and often a friend in tow too. I love history and architecture and am quite an enthu cutlet when it comes to road trips. This little travel account is of one such trip made to one of the most famous tourist spot in Karnataka called Halebidu or Halebid which was quite easy enough to do in a day.
Halebidu means "old town" and is a famous temple town in the Hassan district of Karnataka, about 200 Km by road from Bangalore via NH75. It's one of the three UNESCO nominated heritage sites and is home to twin temples of Hoysaleshwara and Kedareshwara – both dedicated to Lord Shiva. These temples date back to the 12th century and are a part of the Hoysala empire.
The drive down from Bangalore is pretty much scenic with lots of greenery and a good road. We made it in about three hours and spent about half a day photographing the gorgeous friezes carved on the outer walls of the temples which portrayed scenes from the Ramayana, Bhagwad Purana and the Mahabharata.
The entire temple is lifted up on a platform base with enough space for the devotees to walk in a clockwise manner to admire the artworks while also completing the circumambulations of the sanctums.
A guide informed us that the Hoysaleshwara temple is actually two temples – one dedicated to the Hoysala King and the other to this queen. We found this fact to be quite amazing and tried very hard to follow the historic and cultural jargon being intoned by the helpful guide. There were so many hard-hitting contextual aspects, that we eventually muted him out and focused on admiring the craftsmanship of the sculptures in the friezes; apparently, no two lions are the same (or so the guide mentioned. )
Our admiration for the carvings prompted the guide to explain to us that these are sculpted on soapstone which is initially soft but hardens on exposure to air. Though some of these have been damaged as this town was ravaged twice by raiders, their unmistakable beauty is hard to ignore.
The inner sanctums had us tongue tied with the splendour of the lathe turned columns, carved ceilings and the many sculptures of deities. It was pretty dark inside the sanctum and made it very difficult for me to take pics, apologies for the poor resolution of these.
Winding up this travelogue with pictures of the stunning friezes that have the most incredible carvings I have ever seen anywhere. I have tried to put depictions on these from my memory. Some of them reminded me of the monsters depicted in Harry Potter; maybe the author took inspiration from these! 😉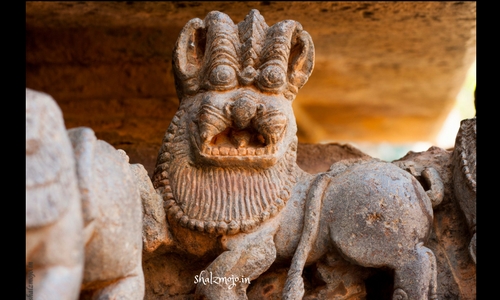 This dragon face is quite stunning and a bit of Chinese looking in my opinion
This looks out of the Ramayana; love the detailing of the figurines in this one
An interesting parade of elephants in this one.
I would love to hear your views on these too. Don't you agree that India has some of the most stunning craftsmanship?
---
About Shalzmojo
An interior designer by profession, writing is a passion which coupled with travel love blossomed into this blog where I love to just "do my thing"! Be it recipes, food events, travel jaunts, fiction dreaming or even meditative musings; all of it's taken up quite passionately on my blog. I am a serious wine guzzler and love to chase butterflies in my free time.
Pls do check out my post Tipu Sultan's summer palace
This post is written for the December bloghop #mymojo with Shalzmojo
Linking up for #wordsante with Namysaysso for every post deserves some love