"Agar firdaus bar-rue zamin ast; Hami asto, hami asto, hami ast."
The verses of Amir Khusro remained stuck in my head as our cab passed through the meadows of Pahalgam, on the way to Aru, the road curved and turned in sync with the curves of Lidder river. Dodging the pony owners, I kept walking on the slopes of Aru until there were no noises except for the sound of gushing stream against the deafening silence of distant peaks. For me, going offbeat in Kashmir meant getting to know its people up close and personal.
Khusro wasn't lying at all when he mentioned Kashmir as the paradise on Earth, except that, as of today, the paradise went through unrest and troubled times much too often and to everyone's agony, is now mentioned as the fallen paradise instead. As I went exploring the lesser famous places of Kashmir, I realized that there was way more to know about Kashmiriyat apart from the land itself.
Commuting from Srinagar to all nearby places is pretty easy due to the availability of shared cabs throughout, in addition to local buses, both intra-city and intercity. Given the ongoing unrest in the state during my visit, I preferred to keep my base in Srinagar and make day trips to all other places. I wanted to stay for a minimum of 2 nights at a few places before moving ahead to the next destination. Well, as luck would have it, few things did not materialize quite in my favor and I missed visiting a couple of places. On the brighter side, these circumstances collectively turned out to be a very good reason to go back.
Read more: Did you know? Polo, the game of elites, has it's humble origins in Manipur
Beyond the usual 'Margs'
Yousmarg
The names Gulmarg and Sonamarg pop up in the minds undoubtedly when one mentions about visiting Kashmir. Gulmarg has a majority number of visitors thanks to the famous gondola rides. While both places are breathtakingly beautiful, I preferred to first explore the lesser known 'Marg' – Yusmarg.
Surrounded by beautiful meadows with bakarwal settlements spread across the valley, Yousmarg is equally peaceful and mesmerizing. Trek to the beautiful Nilnag is a must when you are here. I would recommend staying in Yousmarg for a night to explore the place better. There is a JKTDC hut here.
Yousmarg is well connected with Srinagar. If you are traveling by public transport (read shared cabs), you will need to break the journey in 2 parts, Srinagar to Charar-e-Shareef and Charar-e-Shareef to Yousmarg. The shared cabs are easily available all day long. Local buses also ply from Srinagar to Charar-e-Shareef.
Read more:  What should you not miss during your trip to Spiti Valley
Aru Valley
If Pahalgam is called the valley of shepherds, Aru is the lesser known beauty situated at a distance of 12 km. There is an entry fee of INR 25 and regular cabs do ply to and from Pahalgam city center.
The best way to explore the valley is to go around on foot. Since interest in tourism has been given priority, I could see hotels and guest houses swarming in the valley with an increase in the number of pony owners. However, the pony owners did not bother tourists much in Aru unlike Gulmarg, where they follow you until you decide to give in. That one thing I hold in disfavor of tourism is the commercialization of any place a little too much.
My personal recommendation for people who must hire a pony due to obvious and unavoidable circumstances is – "bargain hard ".
I would strongly recommend staying in Aru for a night. Alternately, you can cover Aru Valley and Chandanwari on a day trip from Srinagar.
Chandanwari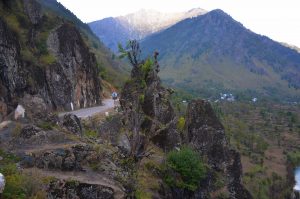 Chandanwari is much more than merely being famed as the starting point of the most esteemed Amarnath Yatra. The road to this beautiful place is mesmerizing. The number of people visiting Chandanwari during the lean season (read non-yatra season) is the bare minimum. You can trek all the way to Sheshnag Lake. It is a 7 km trek and recommended to go early morning. Alternatively, you may hire ponies to get to the lake. I could not go beyond glacier as the weather started to turn unfavorable and we were advised to return.
As mentioned above, Chandanwari can be covered in a day trip from Srinagar along with Aru. However, if you wish to trek to Sheshnag Lake, it is highly recommended to start early as weather Gods aren't always kind enough.
Kokernag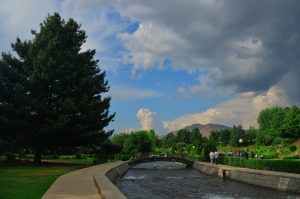 The district of Anantnag has many lesser-known gems and Kokernag is one of them. Kokernag houses the largest freshwater stream and botanical garden in Kashmir. The Kokernag gardens are home to exotic immigrant birds. If you are a birding enthusiast, it is recommended to stay inside the garden complex in one of the JKTDC huts.
Shared cabs ply from Srinagar to Anantnag. You change cabs from Anantnag to Kokernag. The cab drops you just outside the Kokernag botanical garden.
Daksum
Daksum took my heart away in a breath. The moment our cab entered Daksum, I decided to stay back for the night here.
Located at a distance as little as 16 km from Kokernag, Daksum is a quaint little village surrounded with peaks of conifers. Daksum is trekker's paradise and a perfect haven for people who would want to spend time away from the madding crowd. The air of the silent woods offers pervasive peace and calm throughout, while the Bringhi River gushes through Daksum's meadows. The JKTDC huts are located in the middle of the woods, which is an absolute delight.
You can either hire a cab from Srinagar directly. For travelers who find public transport perfect, below is the way you reach Daksum via shared cabs.
Srinagar – Anantnag – Kokernag – Vailoo – Daksum. You change cabs at the mentioned places. Trust me, the journey is everything but tiring.
Read more: How the old world charm of Calcutta still intrigues the new age traveler
Sinthan Top
At an elevation of approx. 12,297 ft. Sinthan top is a mountain pass covered with snow all year around. You would not find a lot many tourists here and hence, would have the entire place to yourself. Sinthan pass is around 37kms from Daksum. The uphill drive on the serpentine roads is absolutely breathtaking. Sinthan pass connects Kashmir valley to Jammu via Kishtawar.
To reach here, one would need to hire a cab as not many people visit hence, no shared cabs available. Alternatively, you can also keep Sinthan pass as a pit stop option on your road trip from Kashmir valley to Jammu or vise-versa.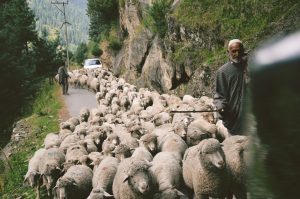 Apart from the above mentions, I also explored the regulars like Gulmarg, Sonamarg and the most beautiful but not-much-known Gurez Valley. You can read the detailed account on Gurez Valley here.
Your comments are appreciated. Please remember to share 'cz sharing is caring.