Kolkata – Its loud, its energy is chaotic and it's ancient. People here, would happily mind your business more than their own and despite that, you would rather be intrigued than offended. Such is the aura of this city. I miss this city when I feel homesick 'cz no one makes "bhapa ilish"(steamed hilsa) and "bhapa chingri" (steamed prawns) better than Maa.
Hence, when in Kolkata, every day is a fishy affair. 
Pink looks creepy though
And, every round to the fish market would get you hooked to know more about the varieties of fish if you are not a pro in picking out a fish for yourself. I find myself lost in the crowd and chaos inside the fish markets whenever I am in the city, however; it is a ritual to make at the least two rounds.
hs Men at work
The fishermen patiently attending to the long queues and buyers patiently waiting for their share of fish to be cleaned, cut and handed over is somewhat a sight. It takes little more than a minute to complete each order. 
Everything is about how well and fast your work is done
Right from weighing to cleaning to cutting, the entire process seems like a well rehearsed act.  And, in between , there's also keeping an eye for other customers and trying to woo them towards selling their respective catches.
The more variety of fish you have, the more easier it becomes to attract customers
Prawns are an everyday affair
Bombay Duck in Kolkata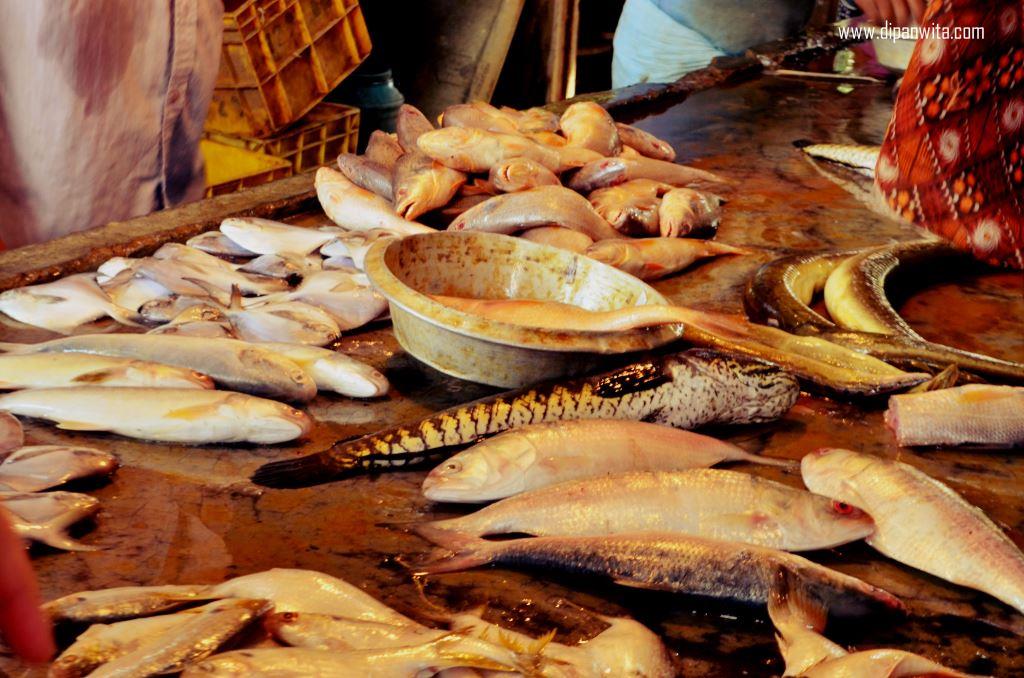 I could hardly recognize any variety except for Rohu or Salmon
It was not a surprise when my little 7yo nephew started helping me familiarize with types of spread that was laid on the platforms. Like a true blue Bangali kid.  
And I kept staring at those eyes.
May be, my reason to go put my nose into these fishy affairs year after year and still not find a proper connect with many of them is 'cz I like it to remain that way. That's the only unbroken chord with this city- not knowing much about it.


I would love to read your thoughts. Please leave your comment and share. Sharing is caring.