How far can one travel for food? I would say – All the way. Ask a die-hard foodie and you get to hear all kind of weirdest stories and crazy stuff they might have done during their food hunting sessions. I happened to ask few friends the same and their answers left me in splits and craving for drool inducing food.
Any write up about Varanasi would be incomplete without the mention of it's food. I too, did not intend to let go of the opportune time to try out its delicacies. You will need to leave aside all your healthy food practices here as everything is dipped in and laden with pure Ghee, starting from snacks to sweets. Let me take you through those gastronomic alleys.
Banaras Ki Khasta Kachaudi
Take a right turn from Gate No. 4 of Kashi Vishwanath Temple and get inside the alleys. Ask anyone for way to Kachaudi Gali. And you will find the most amazing kachaudis. You will be served a pair of them, topped with chana masaala, finely chopped onions, a dash of lemon juice and tamarind sauce. You just can't wait to have them.
You pay- INR 15 per plate
Banaras Ki Chaat
Walk along the Luxa Road towards Dasaswamedh Ghat and you come across Kaashi Chaat Bhandar to your left and Deena Chaat to your right. Both brag about serving the best chaat in Varanasi. We zeroed down on Kaashi Chaat centre and asked them to serve the best from their menu. We were served Palak Papdi Chaat, Tomato Chaat, Chuda Matar Chaat, Aaloo Tikki Chaat and Gol-gappe. It was like a riot of flavors bursting inside our mouths.
The tomato chaat turned out to be my favorite. Served in a Kulhad, it was a mix of smashed tomato spiced up with gravy and topped with ghee.
The Chuda matar chaat was an innovation. It seemed like the Banaras version of Poha. The flat rice and fresh green peas cooked in spices laden with ghee and dry fruits.
We paid- INR 140 for entire palette
The Blue Lassi
Walk towards Manikarnika ghat from Kachaudi Gali, you get to see directions painted on walls for the famous Blue Lassi Shop. Catering authentic lassi since 3 generations (21 years), Vicky Yadav, the 3rd generation Yadav personally takes care of all orders. The youghurt is hand churned and served in kulhads, with large dollops of thick cream. It takes 8- 10 mins to prepare the lassi. They offer 108 flavors, chocolate being most recently introduced one. It's worth trying them out once.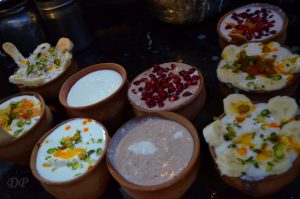 You may carry a small photograph of yours and paste it on the walls of the shop as a keepsake. The walls are covered with photographs of visitors from all around the world.
You pay- INR 60- 107 based on the flavor
Banarasi Paan
"Khaike paan banaras waala, khul jaaye bandh akal ka taala" that's the song that made rounds in my head while I waited for my paan outside the paan shop just besides Kaashi Chaat. I had opted for meetha paan. The fresh and soft beetle leaf was topped with meethi supari, lachcha supari, gulkand, mouth fresheners and the basic kattha – chuna and a drop of ittar. Like paan preparation is another art form of Banaras. You got to try one.
You pay- INR 10- 25 based on your selection of paan
Shri Raajbandhu
Sweets. No place in India is worth visiting without trying out its desserts. Shri Rajbandhu is located in the Kachaudi gali and is famous for its array of sweets . You can sample their sweets. They are simply outstanding. Try out their thandai, a milk based preparation with a mixture of almonds, fennel seeds, magaztari seeds (watermelon kernel), rose petals, pepper, vetiver seeds,cardamom, saffron and sugar.
I could not get pictures as I went there right after my visit to Kashi Vishwanath Temple and I had left my phone and camera back in the hostel.
A few more pictures for your visual treat.
I would love to read your thoughts on this, please leave your comments below and share if you enjoyed have the read