Strolling along the narrow roads in the interiors of south Goa, it felt like I had missed a major chunk from my share of serenity all these years by avoiding this part of the erstwhile Portuguese colony. The houses built in mix of neo-classic and neo-gothic architecture surrounded by coconut trees with capacious front-yards, plus the particular phlegmatic attitude the place offers is something that remains etched in your hearts for life.
What started as a small talk over the afternoon coffee, led to few hasty phone calls and ahoy, we were booked at The Royal Palms Resort & Spa, Benaulim, Goa for 4 nights.
I was in no mood to rush through during this vacation and hence, decided to go zilch in terms of planning and itinerary. Ohhh! That's me by the way- always solo and on the move sans set itineraries. But this time, one thing was different. I had company.
The First Impression
We reached Madgaon one hour late than the stipulated time but who was in a hurry anyway? After inquiring with few locals, we zeroed down on the decision to reach Benaulim by state bus (travel like a local). The bus was packed like sardines and we had to keep ourselves squeezed real hard. We could not figure out how far we were from our destination but when you sit right behind the bus driver, you never miss alighting at your destination correctly. The driver made sure we got down at Maria Hall, Benaulim. Now, that counts for a rocking start to the much awaited vacation.
The GPS fired up on our mobiles soon after. It showed we were 600 meters away from our resort. We decided to walk. The first look at the resort and we fell in love. It was excitement and happiness tap dancing inside our heads. We were to be the owners of a luxurious studio apartment for the next 4 days. Sometimes, luck simply favors when plans aren't made ahead of time and, impromptu is the best plan.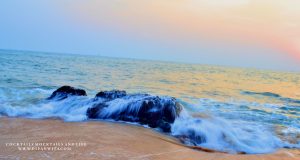 Witness The Legacy Of Colonial Past
At a distance of 15 km from Benaulim, lies a rather non-touristry yet picturesque and quiet Goan village, Loutolim. It is here that you would come across The Mario Miranda House that belonged to Late Mario Miranda, the famous cartoonist. The current occupants of the house are his grandchildren and you can get a view only from outside the gates since entering the premises is restricted.
We found ourselves riding through the lanes of Loutolim and entering the 410 year old Figueiredo Mansion. Our one and half hour interaction with Maria de Lourdes Figueiredo de Albuquerque, the current owner of the Mansion left us spellbound with her wit, strength, charm and beauty.
There are many more heritage homes perched within the tranquility of the smaller lanes of South Goa, that include the likes of The Menezes Braganza Pereira House – Chandor, which is the grandest of Goa's Portuguese mansions, The Voddlem Ghor (The Sara Fernandes House) located in the vicinity of Isvorachem- Chandor (attractions of this house are- secret basement hideaway riddled with gun-shot holes and an escape tunnel to the river), Casa Araujo Alvares– Loutolim, Palácio do Deão – Quepem.
Hop Around The Many Beaches
Goa is synonymous to beaches and our mornings in Goa were no different. We explored 9 beaches in 4 days. Every day started pretty early with yoga by Benaulim beach, home cooked breakfast at our apartment followed by rest of the day on the roads. We might have slept for less than 12 hours during the entire vacation but never felt the need for any rest.
The beaches that we covered – Benaulim, Palolem, Colomb, Colva, Cavelossium, Majorda, Utorda, Agonda and The lagoon beach- Cola. All the beaches are white sand beaches except Cola beach, which has sands of gold.
Walk Through The Latin Quarters
As William Dalrymple calls Fontainhas – "A small chunk of Portugal washed up on the shores of the Indian Ocean".
The only area in Goa where Portuguese is still the main spoken language. Fontainhas is the oldest Latin quarter in Panjim, the capital city of Goa, located by the foot of Altinho hills. The narrow lanes of the old quarter is flanked by bright colored houses. Walk around the lanes, soak in the resplendence of history and rich architecture. Don't miss to read the street names that are typically Portuguese with impressive legends behind them. Read a more detailed post on Fontainhas here.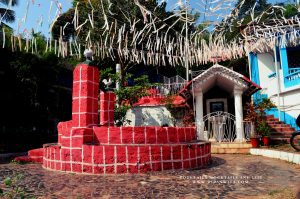 Make Silent Noise When In South Goa
Music and alcohol together conjures a hedonic mix. So, when in Goa, how could have we missed partying and hence, our hunt for some fun places begun. At fag end of Palolem beach and right before you enter Colomb, is Neptune's Point that hosts "Silent Noise", a headphone party. On enquiring a bit more, to our utter disappointment, the silent parties were only hosted on Saturdays and we were at the beach on Friday. Well, this had to be given a pass plus we had to head to Agonda and Cola beach too so may be, Neptune can wait to have the pleasure of us gracing their silent party next time (wink).
P.S– The charges are INR 600 per headphone with 3 channels to select from.
Chuck The Bikes, Get On Bicycles
What more could I have asked for on this trip? Well, couple of days more perhaps. The extended weekend was coming to an end and I really wanted to explore our neighborhood on bicycle. We returned our bike at night and hired 2 bicycles to start early next morning. While Madhu decided to stick to yoga, I opted to ride on my cycle across the length of the beach. Like I had simply found my freedom after long confinement.
 Do Nothing; Just Laze Around and Lose Yourself
This is the best part of travel that I absolutely love about. Doing nothing includes lazing around, getting lost, collecting memories for yourself, stories from strangers who eventually happen to become the best of friends. Explore and ask questions about each and everything that raises inquisitiveness. Do not worry, you will not experience cold shoulder. Ask for directions if you feel lost. It's alright to get lost while doing nothing. Every solo traveler might be able to relate with me at this point. I bet.
All impromptu decisions are often executed over coffee. I guess caffeine kicks those weird ideas most of the times. Thanks to my addiction to caffeine.
I would love to read your thoughts on this, please leave your comments below and share if you have liked it.